Chef Crafted. Small Batches. 45+ Flavors. 5500+ 5-Star Reviews.
3 tubes of our best selling, perfectly seasoned pretzels. Also available with a gift box and note.

I love sending these out as gift. Everyone loves them.
So many unique flavors. Kickin' Jalapeño is my favorite by far.
169 Reviews
This one-two punch is a harmony of herbs perfect for the palate. The ranch offers a fresh and zesty creaminess while the garlic embraces raw, pungent flavors. It also keeps vampires away….so you can snack in peace.
185 Reviews
With flavors of melted cheese and tortilla, we've packed everyone's favorite appetizer into a micro-batch of magnificence. Part with your plate and grab a bowl instead.
59 Reviews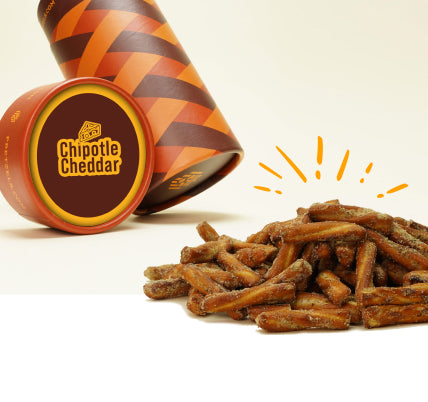 Our chipotle cheddar brings sweet heat to sharp, milky cheese. It's Tex-Mex meets snack-size, a run-for-the border bite that pairs wonderfully with a burrito from, well, Chipotle.
Easily add a gift note and gift box to any bundle.
The Simply Savory Bundle
3 Flavor Bundle $36
Not feeling these flavors? Shop all bundles.